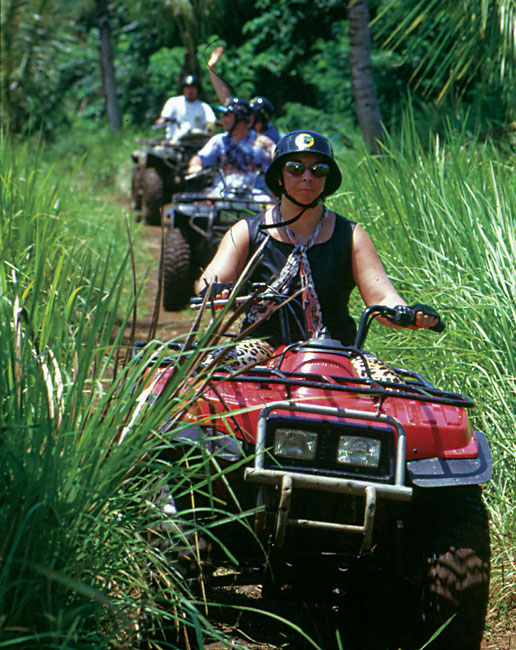 The first chapter of your adventure will be to explore a 6 hectare (15 acre) terraced cocoa plantation situated within the boundaries of Tengkudak Village – Tabanan, Bali. After you have accustomed yourself to the powerful off-road machine you will be guided on a magnificent journey on which you will be presented with the numerous challenges that this adventure has to offer. The route will take you alongside a plethora of winding waterways to a narrow 2 kilometer track between the rice fields, leading to a tradition village that is home to just 80 families. Nestled right in the middle of this agricultural area, the village is inaccessible by the road. The only link to the outside world is a network of Canals and footpaths crisscrossing the endless spread of green crops. The plantation is unique in that it produces fruit all the year round, so you will have the opportunity to sample the origin of the famous Cadburry chocolate bars.
TOUR CATEGORY & RATE
Price:
Rates are per package per person in US $ including tax & service charges
Credit card will be charged once the booking has been CONFIRMED
If you travel in a large group more than 8 persons, please email us.
| | | |
| --- | --- | --- |
| Price valid until 31 December 2012 | Weekday | Weekend / Public Holiday |
| Private Tour 2 - 4 persons | USD 116 | USD 116 |
| Group Tour 4 - 8 persons | USD 114 | USD 114 |
| Tour Inclusions | A/C Transportation, Mineral Water | Admission Fee, Tour Guide |
In this Page, Golfers looking for:
bali golf package 2013, atv ride in kintamani, bali quad