Tulamben is a 20 minutes drive from Amed and offers Bali's most famous dive site the Tulamben Ship Wreck. Right in front of the beach rests the 120m long shipwreck of a US Liberty with the deck facing the seaside.
Anchored off the coast of Lombok, the ship was hit by a Javanese torpedo during World War II. As far as we know, nobody got hurt, but the ship was damaged badly. The American Navy's plan to tow the ship to Singaraja harbor (northern Bali) failed as the harbor was completely occupied, so the ship was intentionally stranded on the rocky beach of Tulamben, where it was unloaded.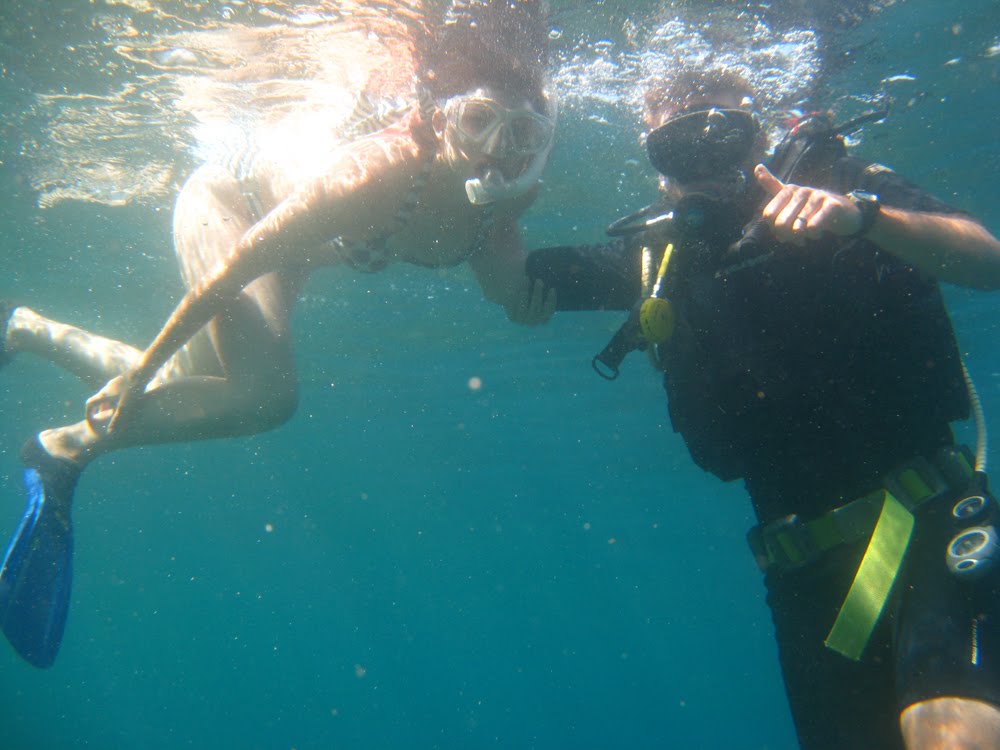 In 1963 Mt. Agung (Bali's highest volcano) erupted and the magma flow pressed the ship back into the sea where it presently rests at a depth of 3 to 29 meters. Since then, coral has covered the wreckage completely and turned it into a home for many species of fish and the most famous dive site in Bali. From time to time, a Napoleon fish or a huge barracuda drops by. You may dive or snorkel this wreck comfortably, accessing it directly from the beach. A night dive is a highly recommendable option as well. This most famous dive site is a must for every diver and is therefore highly frequented. Tulamben Wall divides into three excellent dive sites - the drop off, the coral garden and shark point. All three dive sites are easily accessible directly from the beach. The drop off starts is at a depth of only 1m and drops straight down to70 m. This reef features an amazing coral growth in a magnificent landscape sculpted by many overhanging rocks. The reef is highly populated with a fine selection of beautiful reef fish. A variety of angelfish, emperor angelfish, blue-banded angelfish and yellow-faced angelfish as well as the duke fish are at home here. Pretty often, huge schools of jack fish invite the diver to join the club. This dive site is suitable for snorkeling. The coral garden starts at a depth of 2-15m and is wonderfully grown, featuring stone- and soft coral alike. Besides numerous species of reef fish, the beautiful blue-yellow ribbon moray eel has found a home here. This dive site is also a superb snorkeling spot with none to moderate current. Shark Point can be reached diving close to the wall. The residing sharks are commonly white-tip- and black-tip reef sharks that rest at a depth of 20 to 30m in a sandy area. When currents are present, occasionally gray reef sharks and hammerhead sharks can be seen circling around. This dive site is not suitable for snorkeling.
TOUR CATEGORY & RATE
Price:
Rates are per package per person in US $ including tax & service charges
Credit card will be charged once the booking has been CONFIRMED
If you travel in a large group more than 8 persons, please email us.
| | | |
| --- | --- | --- |
| Price valid until 31 December 2012 | Weekday | Weekend / Public Holiday |
| Private Tour 2 - 4 persons | USD 209 | USD 209 |
| Group Tour 4 - 8 persons | USD 205 | USD 205 |
| Tour Inclusions | A/C Transportation, Mineral Water | Admission Fee, Tour Guide |
In this Page, Golfers looking for:
roketubve, tulamben bali, Bali, tulamben, tulamben shipwreck snorkeling, tulamben tauchen, xnxxl, snorkeling di amed bali, us liberty bali