Nirwana Bali Golf Newsletter
Book online at Bali Golf Courses .com for the cheapest golf offer in Bali!

Dear Golfers,
We are pleased to reveal our new look e-newsletter in conjunction with the recent launch of the new NBGC website,
Nirwana Bali Golf Club. We are excited about improved communication with you and the soon to be launched NBGC magazine. As always your feedback is welcomed.
IN THE PRO SHOP
Nirwana Bali Golf recently had a visit from up and coming European photographer, Nikola Kostic. Traveling through Asia. A keen sportsman, Nikola was the man behind the lens when it came to the recent coverage we received in international online magazine MoochMag.com We are excited to make his works available in the Pro Shop and as new additions on the clubhouse walls. We look forward to showing you more of what Nikola captured in soon to come NBGC magazine. Stay tuned!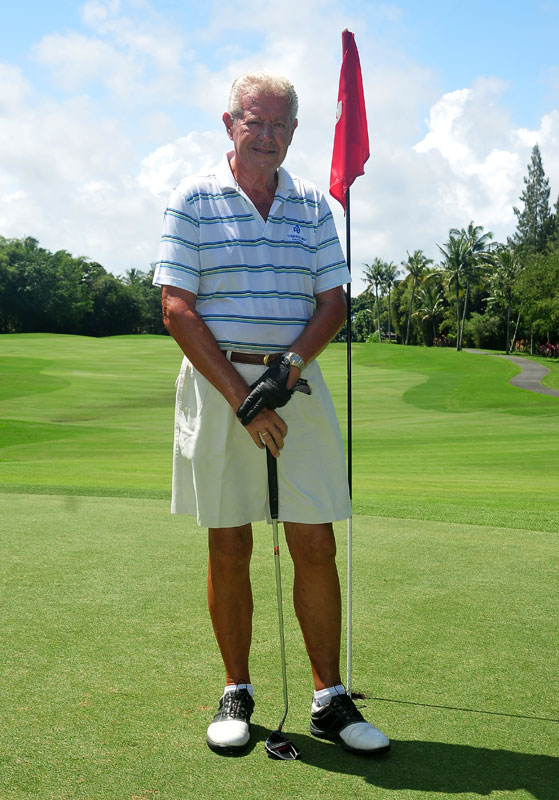 Roughly 500 nights and some 300 rounds of golf later, Nirwana celebrates a visit from one its most loyal patrons!
A catch up with Mr. Marinus J. Van Reenen NBGC takes place at the Clubhouse Terrace on Tuesday, May 10th 2011.
Visiting from Belgium, Van Reenan was born in Yogyakarta in 1936. Leaving Semarang and arriving by boat in Rotterdam with his mother, coming to Bali some 10 years later in 1976 and staying in Sanur.
It wasn't till Van's wife came across a picture of the NBGC 7th hole whilst flicking through a magazine.
"It just looked so beautiful we had to book it". That was back in 1999. Some 500 nights in the hotel and 300 rounds of golf later. Van and his wife couldn't think of anywhere they'd rather be when it came to celebrating their 40th Wedding Anniversary at Nirwana, bringing over the entire family, inclusive of all the grand children.
Van sat down with Director of Golf Paul Lightbody for a quick Q&A….
Paul: You must really like it here, can you tell what makes Nirwana so special for you?
Van: Yes I love it here it's truly my second home. I stay in the same room every year. It has the most magnificent views and it's so quiet and peaceful.   I have spent over 500 nights at resort. Every year, March through to May. Tanah Lot has a different atmosphere. It's so peaceful and tranquil and so are the people. They are so genuine, warm & friendly. The staff all know me and welcome me like family, they are like family to me.
Paul: How about your golf?
Van: I am not so good but I love the game.
Paul: And the course?
Van: The course is incredible. It challenges you on every shot and that's what makes it so exciting. You can never get tired of the stunning ocean views and the beautiful Sawah.  (Rice paddies) Each hole has a different feel, it's really quite magical.
Paul: Who do play with when you are here?
Van: I play 3 times per week. I have lots of friends that I meet each year. I really enjoy playing with the staff particularly Pasco and Indra from the golf service team.
Paul:  Do you have a favorite caddie?
Van: I love ALL the caddies. They do a great job at reading the greens, understanding the rules and have a lovely manner. I have traveled a lot through out Asia playing golf and in my opinion Nirwana has the best caddies.
Paul: Besides golf, what else do you spent your time doing on the island?
Van: I love to read books by the pool side and relax in the Bale watching the ocean. Of course I love a traditional Balinese spa after my golf, it helps me relax.
Paul: Will you be back next year?
Van: For sure! I can't wait to see the results of the renovation and try your new restaurants.
Van, we can't wait to welcome you back!

This entry was posted on Wednesday, May 25th, 2011 at 1:23 pm and is filed under
News
. You can follow any responses to this entry through the
RSS 2.0
feed. You can
leave a response
, or
trackback
from your own site.