Besakih "Bali Mother Temples" Tours
MHT 2 – Besakih "Bali Mother Temples" Tours
In the name of culture, Bali soaks myriad tourists in gleaming mesmerize over its multi-facet exotic traditions. Religious legacy has been undergone as inherited responsibility to maintain the values and the virtues it possesses, and thus immense temples are born out of art maestro's dexterous hands. Despite its resemblance to Chinese pagodas of multi-tiered temples, Bekasih Temple, the "Mother Temple" over other thousand Bali shrines, stands tall admirably, retaining a revered reputation as the island's biggest temple and where Eka Dasa Rundra, the most elaborate centennial purification ritual, solely takes place. What lies beneath this huge sanctuary also seeks visitors' ultimate curiosity, as it is said that a key to unleash Basuki, a holy guardian dragon, sleeps somewhere among the chambers.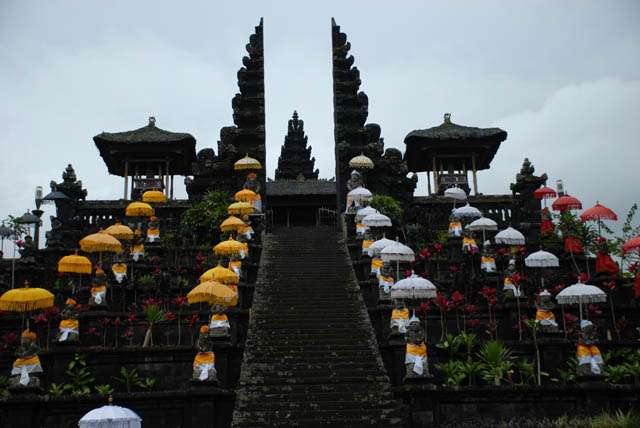 Bekasih Temple then shall indulge your adventurous side, with much entail of mythical creeps along the travel. Dwelling on a bevel southwest of Mount Agung, Bekasih Temple is easily spotted for its extravagant monumental compounds, consisting of twenty-two pagoda-like buildings in total. However, signature intricate carvings covering from the doorsteps to the temple stellar have drawn out Balinese striking feature. Particularly, the etching on the ceiling foretells an eternity life and heavenly rewards bestowed to those who are faithfully abiding to the omnipresent Hindu gods, which as well serve the only reason why the locals lay offerings and ask for blessings every single morning in the enormous shrine. Their early visit, in fact, is a recommended hour for avid travelers to indulge in the temple tranquility; otherwise, nighttime may render silent, unobtrusive observation over the sublime ancestral designs. Bekasih Temple's five major compounds address five holy directions. The rest monuments honor other essential figures, such as Rsi Markandya, the founding father of the temple, and Basuki, the mysterious dragon. To comprehend the sanctuary's lifespan urges one to pay heed on megalithic stones that loiter on several locations, which pertain to similar elaborate carvings the temple walls convey. Though no certain details chisel out the exact year Bekasih Temple was established, the temple existence is believed to be one of the oldest among few in Bali. Long-time neighbors such Kerta Gosa and Bukit Jambul have long accompanied Bekasih Temple's entrancing beauty.
As a primitive jurisdiction court where ancient kings announce legal matters, Kerta Gosa now is a historical open house to regale in Bali's past monarchy. An expert on your side will reveal how Kerta Gosa held much importance over the native residents. The other fancy spot, Bukit Jambul is a contrastive green plateau that boasts natural freedom, forsaking the precedent king's authority. An ostentatious view over sparkling rice terraces in sunset reflections has often enamored leisure tourists after strolling through Bekasih Temple. All in all, Bekasih Temple flaunts an unmistakable Hindu grandeur dating since eon years ago. Its towering shrines envelop Balinese devotion over religious traditions, which endure impeccably to present. While most indigenous residences come back and forth daily to submit their prayers, foreign voyagers stop by to savor the awe imbued by this capacious sanctuary. Their coming, nonetheless, supports one indisputable fact that Bekasih Temple is definitely a scene to behold, not a scene to be told. Its holy tantalization, no doubts, does not linger in words.
TOUR CATEGORY & RATE
Price:
Rates are per package per person in US $ including tax & service charges
Credit card will be charged once the booking has been CONFIRMED
If you travel in a large group more than 8 persons, please email us.
| | | |
| --- | --- | --- |
| Price valid until 31 December 2012 | Weekday | Weekend / Public Holiday |
| Private Tour 2 – 4 persons | USD 55 | USD 60 |
| Group Tour 4 – 8 persons | USD 42 | USD 50 |
| Tour Inclusions | A/C Transportation, Mineral Water | Admission Fee, Tour Guide |