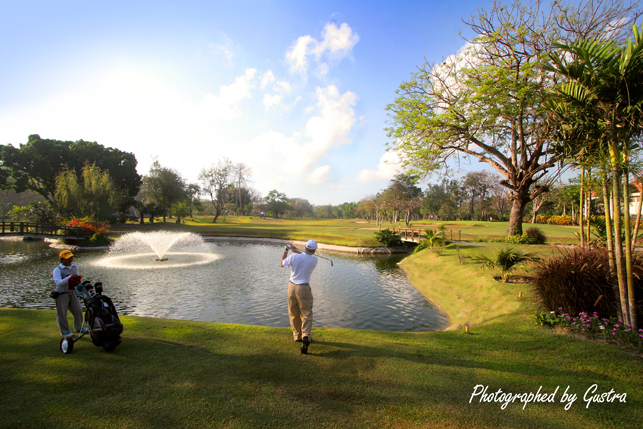 LOCATION
The Clubhouse of Bali Beach Golf Course is located in Inna Grand Bali Beach Hotel area within tourism objects of Sanur (South Denpasar). The location is very reachable from the airport and harbor.
GOLF COURSE DETAILS
Par 36
Course length 3560 yard
Designer Rajakulasingham
Management PT. Karya Cipta Balindo
Blue Tee 3.250 Yards
White Tee 3.058 Yards
Red Tee 2.700 Yards
GOLF FACILITIES
Provide a wide range of golf equipment and accessories.
An open air restaurant of Western-Asia menu ranges provides up to 150 seating capacity, gorgeous view and relaxing ambiance.
Luxurious locker room with 5 stars golfing facilities
Our well trained caddies will assist you during your entire round
Available for meeting with maximum capacity of 30 persons
Denpasar Golf Club office, MahaArt Gallery, Art Space, Procon Indah, ATM Centre
About THE COURSE:
The Bali Beach Golf Course set in an environment of very mature, tall trees, has been given a face lift, with the introduction of lakes, mounding and features, including newly designed and constructed greens all of which add to the aesthetic beauty of the course. It is a course that will provide challenges to all golfers of all skill levels.
The greens are designed to provide a fair good putting surface, without severe undulations. The subtle breaks on the greens will always keep the golfer guessing. The greens are also well - bunker, with little room for errant shots.
The wind is a factor and comes into play on a few holes, especially on hole 2, which is a Par 3.
The golf course is well laid out with seven Par 4's, one Par 5 and one Par 3. That will give the golfers enough variety and challenges to enjoy a good game of golf.
The higher handicappers has always the option of laying up and staying out of trouble, while the better player needs to be sharp and accurate in order to play to handicap.
We hope the club members and their guests enjoy the golf course and the private country club experience. Now, we also provide;
- Club Rental
- Golf Lessons
- Golf Voucher
- Tournament Package
- Driving Range
- EZ Golf Membership (yearly Membership)
The more you play it, the more you want to come back.
BALI BEACH GOLF RATES
18 HOLES
PUBLISHED RATE
| | | |
| --- | --- | --- |
| Category | Weekday | Weekend / Public Holiday |
| Indonesian Resident and KITAS/KIMS holder | Rp. 445,000.00 + 10% TAX (PPN) | Rp. 445,000.00 + 10% TAX (PPN) |
| Non - Indonesian Resident | USD 79.00 + 10% TAX (VAT) | USD 79.00 + 10% TAX (VAT) |
OUR SPECIAL INTERNET RATE
| | | |
| --- | --- | --- |
| Category | Weekday | Weekend / Public Holiday |
| Indonesian Resident and KITAS/KIMS holder | Rp. 445,000.00 | Rp. 445,000.00 |
| Non - Indonesian Resident | USD 79.00 | USD 79.00 |
9 HOLES
PUBLISHED RATE
| | | |
| --- | --- | --- |
| Category | Weekday | Weekend / Public Holiday |
| Indonesian Resident and KITAS/KIMS holder | Rp. 330,000.00 + 10% TAX (PPN) | Rp. 330,000.00 + 10% TAX (PPN) |
| Non - Indonesian Resident | USD 63.00 + 10% TAX (VAT) | USD 63.00 + 10% TAX (VAT) |
OUR SPECIAL INTERNET RATE
| | | |
| --- | --- | --- |
| Category | Weekday | Weekend / Public Holiday |
| Indonesian Resident and KITAS/KIMS holder | Rp. 330,000.00 | Rp. 330,000.00 |
| Non - Indonesian Resident | USD 63.00 | USD 63.00 |
RATE COMPARISONS
| | |
| --- | --- |
| PUBLISHED RATE INCLUSIONS | OUR INTERNET RATE INCLUSIONS |
| Green fee | Green fee |
| Golf Card for two | Golf Card for two |
| Caddy Fee | Caddy Fee |
| | Government TAX (VAT) |
| | *FREE Return transfer from hotel staying to the golf course |
| | Coconut cocktail for afternoon T - OFF @ Jimbaran Bay Beach |
* FREE items will offer for minimum booking of 2 persons
This rate is valid only by website booking until 31 March 2012
Please email us at [email protected] for reservations or fill out the form below
In this Page, Golfers looking for:
bali beach golf course, golf course, bali golf course, Bali Golf Courses, bali golfcourse com, golf di denpasar bali, Nirwana golf denpasar bali