Seminyak is the best tourist place, which has white sand beaches, like legian tourist attractions, only the beaches around the tourist area of ​​Seminyak are more quiet and calm. Besides that, Seminyak tourism is perfect for those who like shopping, fine dining, spa and night life because Seminyak is a high-end center for boutiques and upscale restaurants. The development of tourism in Bali is very extraordinary, and has become a high-end tourist barometer of Bali.
Seminyak is very different around 15 years ago. Formerly Seminyak was a small, losing village developing compared to Kuta and Legian tourist areas. However, now it has turned into a very densely populated tourist attraction with a variety of frivate villas. Seminyak tourist attractions are on the southwest coast of Bali. Most of the southwestern coastal areas of Bali do not yet have a highway that is large enough to accommodate the amount of traffic density every day. Almost every day, especially in the afternoon and at night, congestion will occur in the seminyak area which is very creeping.
Whereas the atmosphere of the seminyak tourist spot offers a very different atmosphere from the tourist attractions of Kuta Bali. For kuta, it seems casual and relaxed, while seminyak gives the impression of being modern, formal, and luxurious.
That is why tourists really like the Seminyak area, so you who are on holiday in Bali don't forget to stop in the Seminyak area of ​​Bali.
Capture google maps: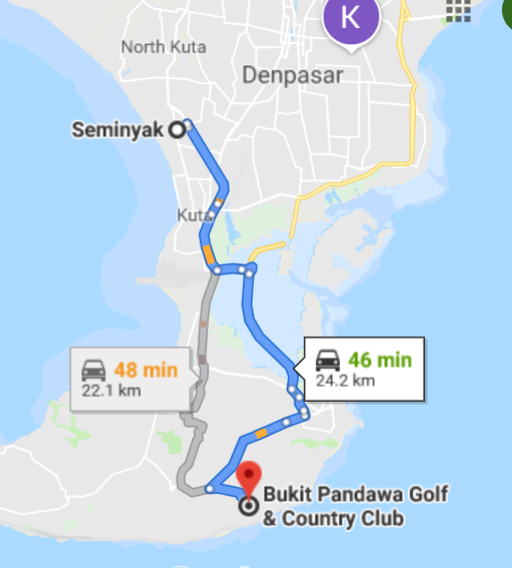 The distance traveled from Seminyak tourism to Bukit Pandawa Golf Club is 24.2km if via Jl. Nusa Dua - Ngurah Rai Airport - Benoa Toll Road with a travel time of approximately 46 minutes. Another alternative is via jl. By pass takes a distance of 22. 1km with a travel time of 48 minutes.