Where is Bali island?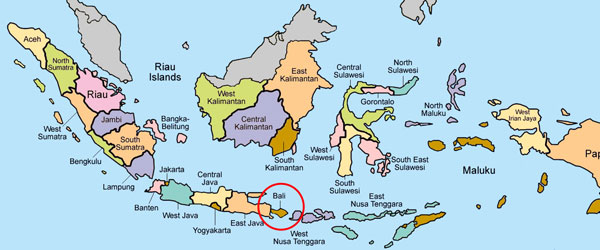 Bali Island is a small province within Indonesia. Country at Southeast Asia, close by the equator line, the island have 2 seasons, dry and rain season which are 6 months each. The island is inhabitant for 95% Hindus population in the country of majority of Moslem. The locals are strictly on culture preservations and tourism itself developed since 1860 in supporting the culture preservation. Bali Island is known as Island of GOD aka Last Paradise Island on earth, called by this name since it has more than 10000 temples in the island. With that holistic name does not mean Bali is strictly religious island, it is voted many times by travelers, travel magazine and travel organization as the best resort island in the World. People are coming not to see and learn about Bali cultures, but enjoying the Sun Sea Sand in Paradise, with combination of Volcano Mountain, Rivers, Rive Fields Terrace, and supported with lots of International Chain Resort Hotel in the world.
Unlike any other island in largely Muslim Indonesia, Bali is a pocket of Hindu religion and culture. Every aspect of Balinese life is suffused with religion, but the most visible signs are the tiny offerings (canang sari, or sesajen) found in every Balinese house, work place, restaurant, souvenir stall and airport check-in desk. These leaf trays are made daily and can contain an enormous range of offering items: flowers, glutinous rice, cookies, salt, and even cigarettes and coffee! They are set out with burning incense sticks and sprinkled with holy water no less than three times a day, before every meal. Don't worry if you step on one, as they are placed on the ground for this very purpose and will be swept away anyway (But you better not step on one on purpose, because - as Balinese believe - it'll give you bad luck!).
Balinese Hinduism diverged from the mainstream well over 500 years ago and is quite radically different from what you would see in India. The primary deity is Sanghyang Widi Wasa (Acintya), the "all-in-one god" for which other gods like Vishnu (Wisnu) and Shiva (Civa) are merely manifestations, and instead of being shown directly, he is depicted by an empty throne wrapped in the distinctive poleng black-and-white chessboard pattern and protected by a ceremonial tedung umbrella.
It is complete destination for tourist who's seeking leisure with families, or couples. Nowadays, since the country economy highly develop, Bali Island also known as MICE destination, many international meeting and gathering such as APEC, Word Summit, etc. with many international leaders are attending including play golf in bali, Bali Island is become more and more famous.
Now is your chance to know Bali Island deeply, set your time and arrange your vacation on this beautiful island. The island is promising you to have unforgettable vacation memories.
Welcome home!!