Kuta is one of the most crowded locations with activities such as watersports on Tanjung Benoa. Tanjung Benoa Beach is one of the watersport alternative locations in Bali besides Labuan Amuk Bay Beach Karangasem and also as an alternative for diving and snorkeling spot such as Amed Beach and Tulamben Beach in Karangasem also Atuh Beach and Pinkie Beach in Nusa Penida.
Not only on the coast of Tanjung Benoa which is crowded, but in the middle of the sea is also very crowded with watersport activities. Watersport activities on Tanjung Benoa which are very popular include Bali parasailing adventure, jet ski and sea walker. The high season in Tanjung Benoa Watersport is around August and December, so that on normal days the situation is normal. For the price of watersport games on the coast of Tanjung Benoa itself is very varied but in general is relatively expensive. The ticket price for entering Tanjung Benoa Beach itself is not calculated per person, but vehicles such as Rp. 5,000 per car, while bus start at Rp. 10,000 – Rp. 15,000.
For you foreign tourists or even local tourists who are on vacation in Bali, don't forget to visit Tanjung Benoa watersport that located in Kuta Bali.
Capture google maps: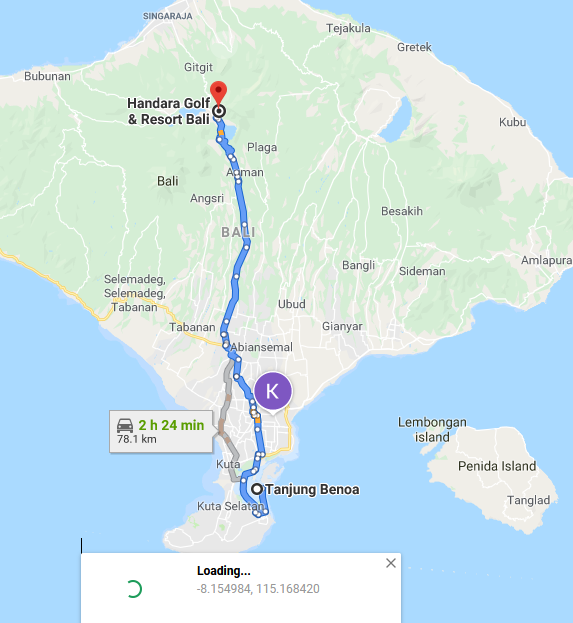 The distance from Tanjung Benoa to Handara Golf & Resort is about 78 km if go through JL. Nusa Dua – Ngurah Rai Airport that can be reach about 2 hours and 16 minutes.