Golf in bali – Bali golf package – Golf course in bali
Thank You For Choosing Bali Island As Your Golf Destination
Dear Golfer, Welcome to Bali Island
Many people labels Bali Island as the last paradise on earth. In addition, nowadays Australian Golfers also calls Bali Island as The Most Beautiful Golf Course in  Asia. The all year round sunny weather in the Island with only short rainy season, makes golfers love to play all day long. All of our visitors are very satisfied with the situation of the nature.
We host three world-class standard International Golf Courses, which was built and developed by the world's most famous golfers such as Greg Norman and Nelson & Hartworth. Those three international courses offer luxury resorts and gorgeous view and mostly preferred by Australian golfers. In addition to those international courses, we also provide two other, national-standard golf courses, which are more budget friendly and mostly preferred by Asian golfers from China, India, Indonesia, Japan, North & South Korea, Macau, Malaysia, Singapore.
The first of those courses is Nirwana Bali Golf, Club which is more favourable course in the island for international tourist and host many international golf tournaments. Then, New Kuta Golf Club, offers a beautiful ocean view course at the hillside of our Island. Next, there is Bali National Golf Club which has been renovated and recently reopen and named as Bali Golf & Country Club. There is also the mountain-top view golf course with chilly air weather, namely the Bali Handara Country Club. Lastly, Bali Beach Golf Course is located in Denpasar capital city of Bali, the only 9-holes course we available for you.
This site offers you not only the course but also vacation packages, combining your golf game with sightseeing, romantic dinner on the beach side, Spa's and shopping program. It is very easy to join and book the program. The company commitment is to offer the best value for your Holiday in Bali. Please come with your wife, children, brothers and friends. We will arrange everything for you. With online booking services at baligolfcourses.com, our team will help you with the simplest way to book a Reservation. We will serve all you need in Bali and we will guide you in preparing for the trip.
Please contact our Professional Travel Experts by filling the form at the reservation page for your further booking details.
General Information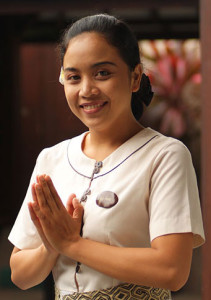 3 Golf Courses With International standard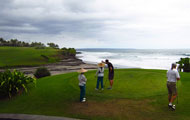 Nirwana Bali Golf
Located on the ground as a tourist attraction tanah lot, this is a visual masterpiece of dramatic ocean views and lush Balinese landscapes offers a spectacular challenge and a unique world-class experience for golfers of all skill levels. With three holes running along the cliffs of the Indian ocean and terraced rice paddies providing unique hazards the course will test the accuracy and consistency of a PGA Professional and still be enjoyable for the average golfer.
New Kuta Golf
We provides an 18 Holes championship standard course and the first links style layout in Indonesia. It will challenge both the low handicapper and reward the novice. With five sets of tees, there's enough variety to ensure a satisfying experience for all skill levels. Location On the southwestern rim of the island's Bukit Peninsula, within the Pecatu Indah Resort grounds. Perched above a limestone cliff, overlooking stunning Dreamland and Balangan Beach.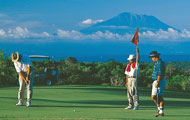 Bali National Golf Club
The latest open 18 holes courses in Bali Island, located at the Nusa Dua complex resort of 5 stars hotel and resort facilities. The course is design with tropical Balinese garden scenery with combination ocean view. The Bali National Golf Club is the latest edition from refurbished course Bali Golf and Country Club that have been completed 21 years service since it is open in 1991.
2 Golf Courses with National standard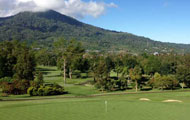 Bali Handara Kosaido
If you want to play in a more shady spot, here is the right solution.  Handara Kosaido located in Bedugul highlands around 1140 meters above sea level in the area known as a very cool and very beautiful natural scenery. Handara Kosaido country club provide 18 holes designed by Peter Thompson. This place already equipped with supporting facilities such as restaurants and other tourist activity bali.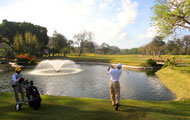 Bali Beach Golf
The Clubhouse is located in Inna Grand Bali Beach Hotel area within tourism objects of Sanur (South Denpasar). The location is very reachable from the airport and harbor. The greens are designed to provide a fair good putting surface, without severe undulations. The detail is : Par 36, Course length 3560 yard and Design by Rajakulasingham. We hope the club members and their guests enjoy the private country club experience.
We Get 5 Star Rating on Tripadvisor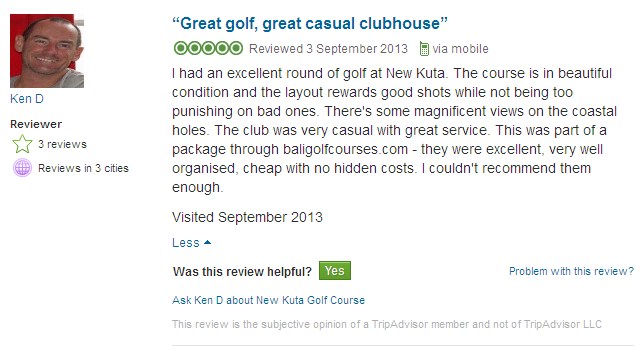 See the user Review.. Click Here.
Sens Patrice - France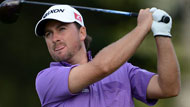 Sens Patrice - France
2 weeks vacation, really like the weather…hot sun and nice lay down at the beaches. Visiting few temples, and doing water sports activities…that was fun. I like the nature and the hospitality of the people, they are warm and friendly….unique culture to know, especially when we saw the cremation ceremony. That a lucky day to see one, which is not happen everyday.
Simon Overy - Australia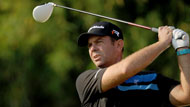 Simon Overy - Australia
We was coming with our family and company few times, and was using 3 x services from baligolfcourses.com for golf booking! This company works professionally, I am pleased with their driver too - Satria, he is fun and friendly. We will come again end of the year to hit few more round. I am recommending the Nirwana for advance player… awesome!
Lorraine - Hong Kong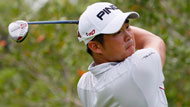 Lorraine Hahn - Hong Kong
I was came to attend the wedding reception of our colleges, and during the trip was manage to play 2 round at New Kuta Club. The booking is assisted with Dede - my friendly and fast responsive customer service at Baligolfcourses.com, I am happy with their services, professional! and I am telling my fellow golfer here is a good destination for golf trip.