Golf in Bali Island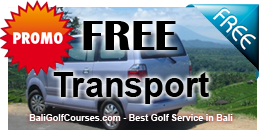 Welcome to Bali Golf Courses… home to over all exciting golf destinations in Bali, over 20 fabulous hotels & golf resorts and private villas, and magnificent golf courses. Bali Island is lately known as golf holidays destination for short haul in Asia Pacific. There any many golfer and visitor from Australia, New Zealand, Singapore, Malaysia, Korea and Japan to take short golf vacation in Bali Island. Bali Island itself has 5 golf courses to play; 4 of them are 18 holes and 1 course for 9 holes. The Bali golf courses are; Nirwana Bali Golf Club, New Kuta Golf Club, Bali National Golf Club, Handara Golf & Resort Bali, and Bali Beach Golf Course.
It's so easy to quote and book your dream golf vacation on-line! Bali Golf Courses offers the best value for your Golf vacation in Bali. Our online web services at baligolfcourses.com is the simplest way to create your golf vacation booking or just to get your T off booking at any golf courses in Bali. We serve quickly, details, and offer many discounts for golf repeater customer. Our company is provide best T off slot time, free pick up with air-conditioned transport from your hotel to the golf course and vice versa, provide golf club rental and golf amenities rental, also provide accommodation and Bali golf packages if you are looking a complete full services with the best rate offer.
Why Bali Golf Courses? Bali Golf Courses can provide you and your friends or family with all the options that make up their dream golf vacation. We have a large selection of lodging and golf packages that include some of the most magnificent golf courses in Asia. Coming in by a singleClik! And enjoy your great vacation.
Can't find your preferred vacation spot or golf course online? Please contact our Bali Golf Courses travel experts by email or messenger, and we'll make it happen. Everything is very simple by just contact us